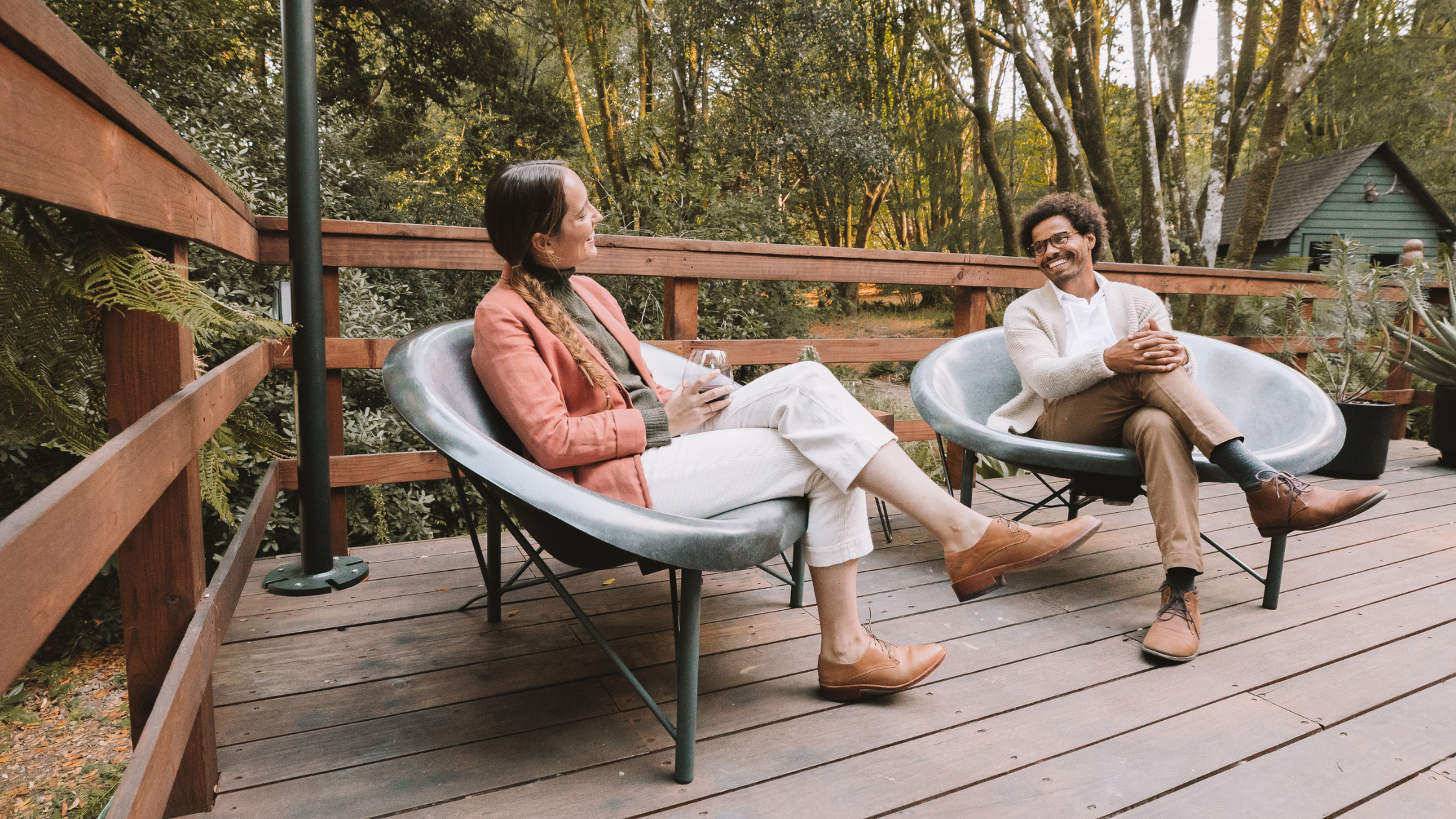 If you're reading this, it's probably because you enjoy being outdoors and want to enjoy your outdoor spaces comfortably. With the love of nature, comes the responsibility to protect it so we can have it longer. We all know that burning fossil fuels is negatively affecting our environment and the use of patio heaters is no exception to this rule. Burning propane emits carbon dioxide, and since patio heaters don't have exhaust filtration systems, they can dump an astronomical amount of carbon dioxide into the atmosphere with very little use. To be more specific, the Washington Post states that according to the EPA, "Burning propane emits roughly 135 pounds of carbon dioxide per million BTU. If you ran your patio heater for 5 hours a week over the course of three months, you'd generate about as much carbon dioxide as driving a car 450 miles." That's a pretty steep environmental impact for our cozy weeknight patio dinners.
Waste
We know consumerism is a huge contributor to the build-up of waste in our landfills, ultimately responsible for adverse environmental effects. However, we need things sometimes, and if you want to enjoy your outdoor spaces year-round, you're going to need a way to keep warm. The best way to find a balance in this situation is to purchase products that last a long time so we're not dumping them every few years. Unfortunately, patio heaters don't last a long time. Most patio heaters only last a few years before breaking down and then you're stuck with a very large item headed straight to the waste bin (good luck fitting it into the waste bin!) Even if you are able to disassemble the heater, we know not 100% of recyclables actually get recycled, and many city programs don't accept every kind of material for recycling. Your best bet is to find an option that lasts longer so you're not stuck with the responsibility of disposing of a large metal appliance every 2-3 years.
Danger!
There are a lot of strategies that go into safely using a patio heater. Since we've already covered how much carbon dioxide is put off by patio heaters burning propane, it's safe to say that they can never be used indoors. However, patio heaters can also pose a risk of carbon monoxide poisoning under covered patios and tents as well as near doors or windows of your home. Additionally, any time you're heating with a flame of some sort, there is a risk of burns, and if you have small children or pets around, it can be difficult to help them understand this risk and also hard to relax when having to constantly monitor the safety of the situation.
It's Ruining the Vibe
To say patio heaters are unsightly is an understatement. Picture this: You've invested time and money into designing a beautiful outdoor space for you and your loved ones to enjoy. You've curated the perfect setup with plants you love and a view you can't get enough of. Now, drop in a giant 6' tall metal appliance right in the middle of it all. Not only is your view ruined, but you're sacrificing a lot of space that now can't be used for other things.
What's the Alternative?
A safer alternative to keeping warm in your favorite outdoor spaces is radiant heating systems. With radiant heating systems, you don't have to worry about the output of carbon dioxide harming the environment or carbon monoxide posing potential health risks to people and pets. In addition to being safer, the cost of the electricity it takes to use radiant heat is about a third of the cost of the propane required to run a patio heater. Not only is it lower cost, but radiant heat has been proven to warm spaces faster than other heating methods.
There are a few options for radiant heating in an outdoor space, the first being overhead heaters that are installed in a covered patio area. The requirement for these is some kind of surface to mount the heaters above the seating area which can rule them out if you are hoping to heat an area without some kind of cover. If you are planning a concrete patio area you can also heat the stone under your feet with an electric coil. However, this is something that would need to be planned with the installation of your patio or if you're remodeling your outdoor space since electric coil cannot be installed into existing concrete.
Studies have also shown that the closer a heat source is to the skin, the more effective it is at reducing the feeling of being cold even if the temperature isn't as high. This makes a heated patio furniture option a great choice for those looking to utilize radiant heat without installing equipment or digging up their patio.
Where to Find the Unicorn of Patio Warmth
So, I'm sure you're thinking at this point, that something that solves every outdoor heating issue caused by patio heaters has to be some kind of mythical product right? Wrong. Galanter & Jones has been producing radiant heated patio furniture for 10+ with exceptional results. Their pieces are not only warm and cozy but beautiful so they add to the aesthetic we all work so hard to procure in our gathering spaces both outside and inside. Did I just say inside? Oh yeah! Galanter & Jones furniture can be used both indoors and outdoors safely. No need to worry about any kind of noxious emissions, so you have the flexibility to warm up in a variety of spaces. Their furniture warms to a comfortable temperature that's safe for kids and pets and reduces the need to worry about injuries from flames. Lastly, Galanter & Jones furniture has a three-year warranty when used residentially and one year for pieces placed in commercial settings, and they provide technical and repair advice for the lifetime of your furniture. Many customers who purchased original pieces are still enjoying them ten years later. Galanter & Jones has created a solution that beautifully solves every problem caused by patio heaters! Now you know how to replace the polluting eyesores that wind up in the dump with clean, long-lasting outdoor heating options that not only look great but serve as seating for you and your guests.