Planned Obsolescence Exposed: The Dark Side of Overhead Patio Heaters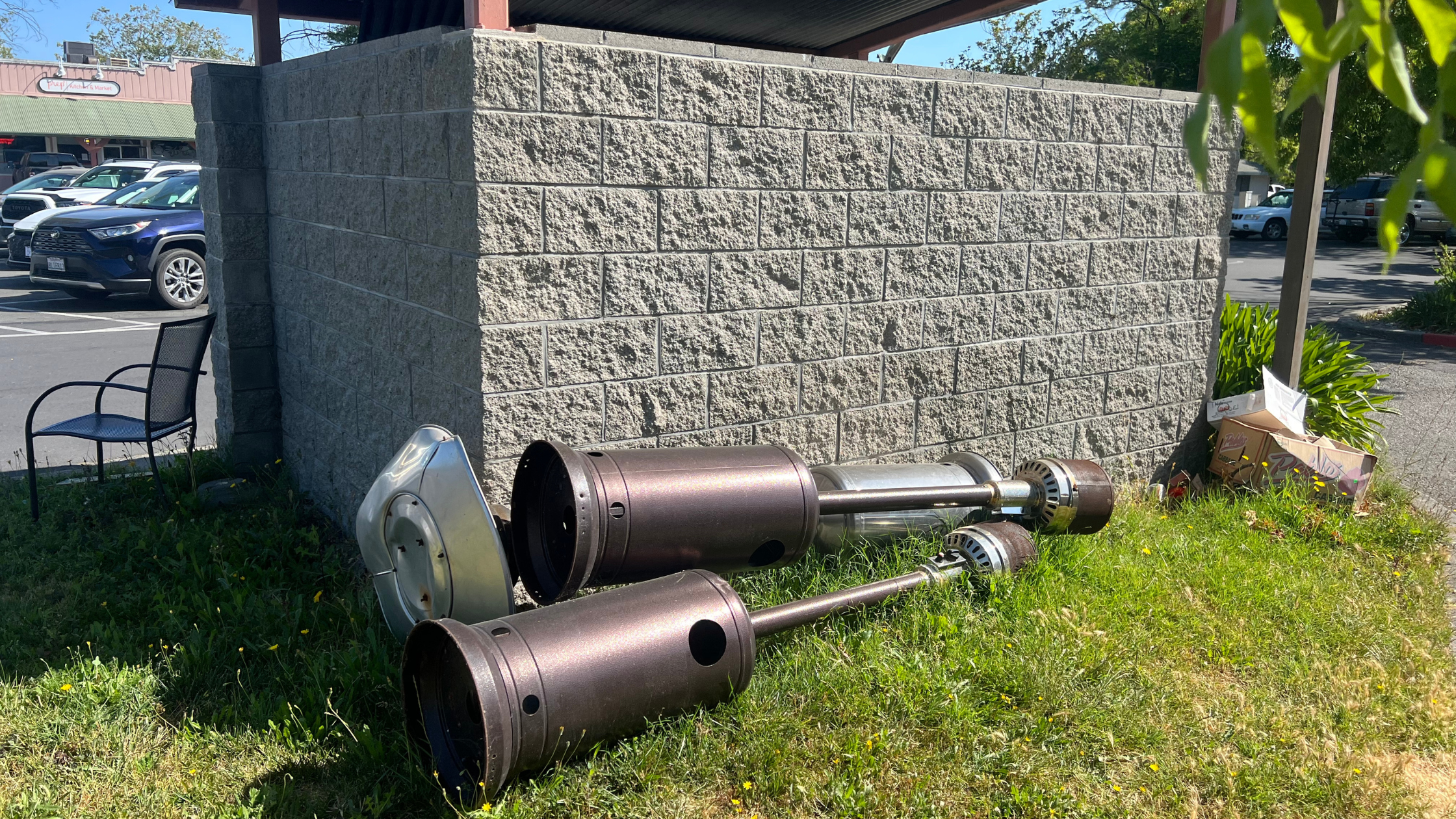 Everyone wants to spend time outside, but often the weather stops them. The solution? Patio heaters. But are patio heaters really the BEST solution? Let's take a closer look.
The Short Lifespan of Patio Heaters
The allure of warm, starlit evenings on the patio is often accompanied by the sobering reality of patio heaters' limited lifespan. On average, these outdoor heating companions possess a distressingly short duration of functionality before succumbing to breakdowns. HOW LONG IS THE LIFESPAN?
Not only do they have a short lifespan, but patio heaters also malfunction at an alarming rate. Ignition problems further compound the predicament, transforming the once-promising prospect of a cozy evening into a frustrating battle with uncooperative devices. The inherent brevity of these heaters' lifespans undermines the essence of comfort and convenience they are designed to provide, leaving consumers to contend with a cycle of repairs, replacements, and disposal.
In a world increasingly conscious of the environmental impact of consumer choices, the prevalence of these issues underscores the urgent need for more robust and enduring outdoor heating solutions.
Lack of Parts for Older Models
The lack of foresight in patio heater companies' manufacturing practices exacerbates the planned obsolescence problem. It's a frustrating reality that these companies frequently choose to discontinue the production of parts for older models, rendering once-functional heaters obsolete. This deliberate approach creates a cycle of dependency on newer models, forcing consumers into an endless loop of purchases rather than facilitating sustainable, long-term ownership. As a result, owners of older patio heaters are left grappling with the bitter frustration of being unable to procure the necessary replacement parts or find avenues for seamless repairs. This dilemma leaves them with no choice but to prematurely dispose of their otherwise functional heaters, contributing to a wasteful culture that disregards the environmental impact of these discarded devices.
The consequence of this shortsighted practice is twofold: the loss of functional assets for consumers and the rapid accumulation of electronic waste. The frustration faced by owners intensifies as they are forced to let go of appliances due to the unavailability of essential components. This cycle of purchasing and disposing of patio heaters not only burdens consumers financially but also perpetuates the harmful environmental consequences associated with planned obsolescence. The mountains of discarded patio heaters that find their way into landfills stand as poignant reminders of the need for a shift towards sustainable manufacturing practices that respect both consumer needs and the well-being of our planet.
Non-Recyclable and Non-Biodegradable
Patio heaters, designed with a short lifespan in mind, come with an alarming attribute: they are non-recyclable and non-biodegradable. The materials used in the construction of patio heaters, including metals, plastics, and electronic components, pose a significant challenge to recycling efforts. This attribute further exacerbates the ecological toll of these devices. With recycling avenues closed off, patio heaters end up in landfills. These landfills, already grappling with the challenges of accommodating growing waste volumes, are burdened further by these sizeable and non-degradable devices. The space these heaters occupy could be used for more environmentally responsible waste management strategies. As these heaters accumulate, they contribute to the generation of greenhouse gases and leachates, further degrading the quality of our air and water. The visible and invisible pollutants released by these discarded devices become part of the ongoing cycle of pollution, underscoring the urgency of reevaluating our choices and embracing sustainable alternatives to alleviate the strain on our environment. Gross.
The Cycle of Waste and Financial Burden
Planned obsolescence unwittingly enrolls consumers in a never-ending cycle of buying and replacing patio heaters. Year after year, hard-earned money is funneled into devices designed to fail, contributing to a significant financial burden. The trail of waste left behind in this cycle is concerning and unsustainable. The inherent planned obsolescence embedded in these products drives consumers into an unending loop of expenditure and frustration. What was meant to enhance outdoor experiences becomes an unsustainable drain on both finances and patience.
As this cycle repeats itself, the consequences extend beyond mere inconvenience. The cumulative effect of repeatedly discarding and replacing patio heaters generates a substantial amount of waste. Landfills, already strained by the constant influx of discarded electronics, see a significant increase in non-recyclable materials due to the short-lived nature of these heaters. The environmental repercussions are palpable: excessive waste generation, energy consumption in production, and the release of pollutants from decomposing materials all contribute to the growing ecological strain. Moreover, the financial toll on consumers steadily builds over time as the seemingly endless cycle of purchasing and disposing of these devices gradually empties wallets. By reflecting on this cycle, we understand that the true cost of these heaters extends far beyond the initial purchase, and the need for more sustainable and enduring alternatives becomes paramount.
The Best Patio Heater is Actually a Chair
Amidst the realm of patio heaters dominated by planned obsolescence, Galanter & Jones emerges as a beacon of innovation and sustainability. This forward-thinking company is dedicated to dismantling the cycle of disposability that plagues outdoor heating appliances. With a commitment to longevity and environmental responsibility, Galanter & Jones is a testament to a new era in outdoor comfort.
At the heart of their offerings lies an alternative product that defies convention – a patio heater that is ingeniously integrated into a seating solution. This revolutionary approach not only provides warmth but also redefines the very essence of outdoor relaxation. Imagine cozying up on a chair that emanates gentle, consistent heat and is built to last. Galanter & Jones' solution is a paradigm shift, emphasizing products that are environmentally friendly, sustainable, and built to stand the test of time. By aligning innovative design with a commitment to lasting quality, Galanter & Jones invites you to reimagine the possibilities of outdoor heating while championing a greener and more responsible future.
The Benefits of Galanter & Jones Heated Furniture
The innovative heated furniture crafted by Galanter & Jones offerings extends far beyond the conventional, offering remarkable benefits that challenge the norm. Foremost among these advantages is their unwavering commitment to durability and longevity. Crafted with meticulous attention to quality, these pieces of heated furniture are built to withstand the tests of time and the elements. This focus on enduring craftsmanship ensures that consumers are investing in the comfort and making a sustainable choice that transcends the throwaway culture that often characterizes outdoor appliances. By standing firmly against planned obsolescence, Galanter & Jones empowers customers to embrace products that seamlessly blend functionality, comfort, style, and the assurance of lasting value. Investing in these unique and beautiful chairs means investing in a sustainable future where the cycle of waste and financial burden is broken.
What truly sets Galanter & Jones' heated furniture apart, however, is the long-term cost-effectiveness of the pieces. While the initial investment might carry a higher price tag than traditional outdoor heaters, the value of this cutting-edge furniture becomes evident over the life of product ownership. The durability and longevity intrinsic to their design translate to a reduced need for replacements and repairs. This directly translates to fewer instances of having to dispose of and purchase new devices, curbing wasteful habits contributing to environmental harm. By making a more substantial initial investment in heated furniture from Galanter & Jones, consumers benefit from enduring comfort and spare themselves the financial and environmental burden of frequent replacements. This wise choice exemplifies a shift towards responsible consumption and a tangible commitment to a more sustainable future.
The troubling reality of planned obsolescence casts a shadow over the world of patio heaters, contributing to waste generation, environmental degradation, and financial strain. As consumers, we hold the power to disrupt this cycle. By opting for sustainable alternatives like heated furniture by Galanter & Jones, we can consciously choose to protect the environment, our wallets, and the enjoyment of our outdoor spaces. It's time to embrace innovation that respects our comfort and our planet. Contact us today to sit for yourself and realize that the best patio heater really is a chair.